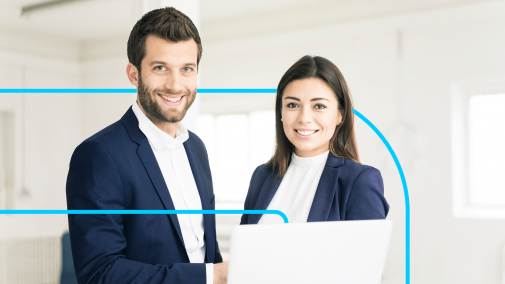 Digital and secure communications for the German Federal Government, the German States and the economy
The digitisation of security-relevant information requires a high level of IT security. If this information is classified due to sensitive content, the need to protect it is even greater. Yet mere digitisation of sensitive information is not enough: Those who work with classified information also want to be able to talk about the content digitally and forward it to each other. Our customers in the German Federal Government – and presumably in the German States and in the industry entrusted with classified information as well some day – place the highest demands on security and secrecy in digital communication and the exchange of classified information.
The importance of smoothly functioning communications becomes very clear in times of domestic and foreign policy crises: It ensures Germany's ability to act. This is the only way to make it possible for critical security issues to be resolved quickly. A secure communication infrastructure plays an essential role in establishing a sustainable security architecture in Germany.
Xecuro GmbH, a company of the Bundesdruckerei Group, operates digital systems for the Federal Government's classified communications that enable encrypted voice and video communications as well as secure data exchange. Xecuro is thus making a significant contribution to Germany's crisis response capability and digital sovereignty.
The German Federal Foreign Office has commissioned Xecuro with the operation and further development of federal communications systems. The Bundesdruckerei Group, the IT security company of the Federal Government, is a strategic and long-standing partner of the German Federal Foreign Office. As part of this strong, federally owned group of companies, Xecuro offers the interdisciplinary competences of an innovative and dynamic IT security service provider.
Highly secure telephony
To enable secure voice communications in line with today's standards, Xecuro supplies State institutions with state-of-the-art, pre-configured and tap-proof terminal devices and operates the highly available infrastructure behind them.
Highly secure v

ideo conferencing
Another part of new classified information communications is a video conferencing solution that allows sensitive information to be exchanged. This system therefore closes an existing technological gap.
Digital classified information processing
The processing and exchange of confidential or secret classified information is still largely paper-based in many public authorities. Digital classified information processing operated by Xecuro can now make work faster and more efficient in these areas as well.
State-of-the-art infrastructure for highly secure communication
To protect Germany's digital security, Xecuro operates reliable and secure infrastructure to allow the public administration to communicate and exchange classified information. The solutions enable secure voice, video and data transfer between ministries, authorities and entities entrusted with confidential information. This new infrastructure makes a significant contribution to digital sovereignty and helps protect both Germany's national security interests and its ability to act.
On-site support and service desk
Xecuro supports the users at the authorities throughout the rollout of these highly secure communications systems. Service teams from Xecuro install the terminals in the offices of the government and administration and train the users. If required, Xecuro's competent field service staff are available on site to ensure the availability and reliability of the systems. In addition, Xecuro offers a service desk to help the authorities. The Xecuro support team provides quick and customised assistance for all questions involving communications solutions.